Adam and Drew talk about the latest Marvel Movie Updates starting off with Marvel Avengers: Age of Ultron trailer 3 [below] as well as the massive Marvel Movie Marathon that is being shown leading up to the next Avengers movie.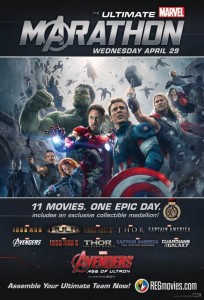 6:00pm IRON MAN
8:25pm THE INCREDIBLE HULK
10:35pm IRON MAN 2
1:00am THOR
3:10am CAPTAIN AMERICA: THE FIRST AVENGER
5:30am THE AVENGERS
8:48am IRON MAN 3
11:15am THOR: THE DARK WORLD
1:45pm CAPTAIN AMERICA: THE WINTER SOLDIER
4:20pm GUARDIANS OF THE GALAXY
7:00pm AVENGERS: AGE OF ULTRON (RealD® 3D)
They also discussed a contest to get to go to the Age of Ultron premiere with Robert Downey, Jr. Check out the great video that RDJ made to promote the contest…
Then they shift gears from the big screen to the small screen and depending upon how you watch your Netflix it could be a very small screen indeed. We're talking about the crop of Marvel Netflix series including Daredevil, A.K.A. Jessica Jones, The Defenders and Luke Cage.
But we weren't only talking about Marvel, but got into The Flash, Gotham and even Dragon Ball Z. Stay for that epically awkward moment when Adam learns just how much Drew know about Dragon Ball Z.
Podcast: Play in new window | Download