On this episode the Dad.fm trio tackle the rise of all girl superhero franchises as Transformers, DC comics and … introduce media content and toys to placate young ladies and cash in on the 'play pattern' of girls.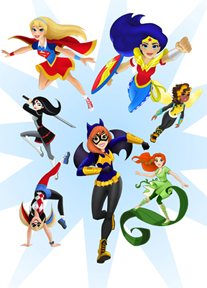 This fall, DC Entertainment, Warner Bros. Animation, Warner Bros. Consumer Products, and Mattel will launch DC Super HeroGirls, a new universe of female-dominated superheroes and villains. The franchise targets girls ages 6 to 12 and features DCComics' female characters—including Wonder Woman, Supergirl, Batgirl, Harley Quinn, Bumble Bee, Poison Ivy, and Katana—as relatable teens. The initial launch of DC Super HeroGirls will include toys, books, and other product categories, as well as an immersive digital experience, original digital content, and digital publishing. Products will begin rolling out next year.
Mattel is set to launch action figures and fashion dolls featuring heroic poses, while Random House Books for Young Readers imprint of Random House Children's Books, will launch books next spring, to be complemented by original graphic novels from DC Entertainment. The Lego Group has also signed on, and will produce an array of Lego building sets.
Currently, there is little information about this future gang of female-Transformers, except that they will join up 'devastator style' to create one super-Transformer known as Victorion.
The Expendables and Ghostbusters franchises are both developing potential 'female-orientated' spin-offs and sequels.
Podcast: Play in new window | Download