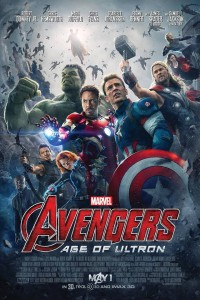 Marvel's Avengers 2 –Avengers: Age of Ultron is finally out! We've waited two years to see this film and boy do Adam and Drew dig into it.
Make sure you check out Drew's amazing posts about the cast interviews over on BenSpark.com.
Jeremy Renner and Cobie Smulders – (dropping 5/4)
James Spader and Paul Bettany – (dropping 5/7)
Spoiler warning – if you listen to this podcast you'll hear that we give fair warning when to stop listening before we drop any spoilers.
When Tony Stark (Robert Downey Jr.) jumpstarts a dormant peacekeeping program, things go terribly awry, forcing him, Thor (Chris Hemsworth), the Incredible Hulk (Mark Ruffalo) and the rest of the Avengers to reassemble. As the fate of Earth hangs in the balance, the team is put to the ultimate test as they battle Ultron (James Spader), a technological terror hell-bent on human extinction. Along the way, they encounter two mysterious and powerful newcomers, Pietro and Wanda Maximoff.
Podcast: Play in new window | Download